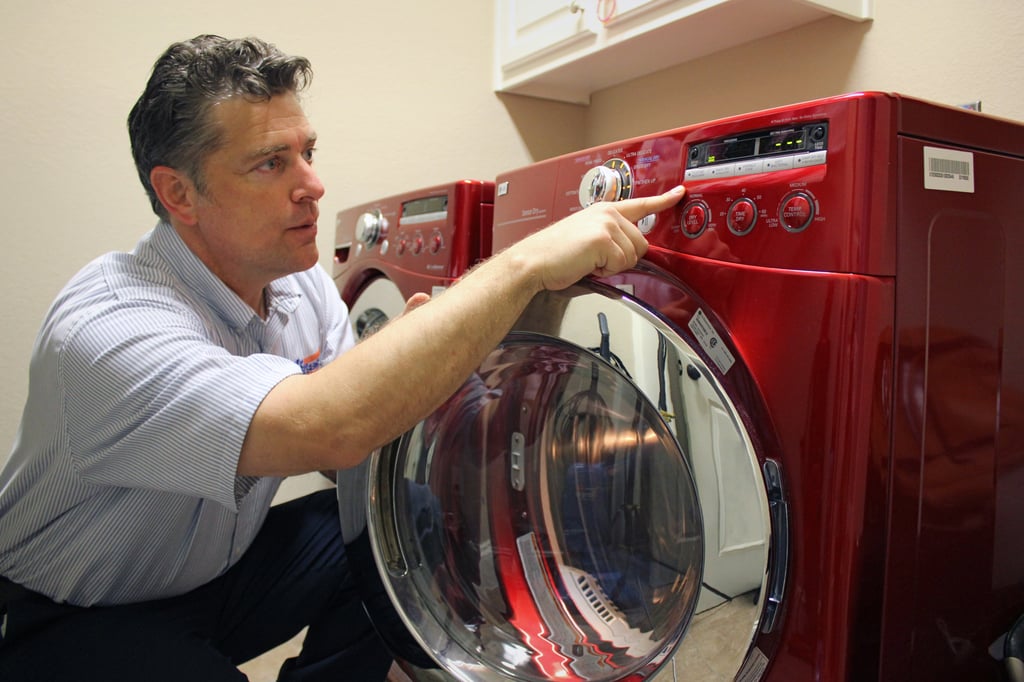 A recent Trenholm Research, INC® report disclosed that "free repair services" rated at 90% importance among potential customers for the rent to own industry, and yet, merchandise repair and replacement expenses, according to the Association of Progressive Rental Organizations in 2010, are one of the major contributing factors to high operating costs. Even so, some rent to own business owners are using a new approach to diversification in order to exchange these operating expenses for a new source of revenue.
Rather than diversifying products, some business owners are diversifying the service that they offer. While there are many options for business diversification, some rent to own facilities are expanding their services to include appliance repair. Ryan Wagner, one of Mr. Appliance's first rent to own entrepreneurs expanding into the appliance repair industry, has experienced the benefits of diversifying his business.
"I already had a guys working on repairs for my store." Said Wagner, "I could keep one technician completely busy for at least a full week every month with the number of repairs we needed, and with repairs taking up about a quarter of my guys' time anyway, so adding a Mr. Appliance just made sense."
While for Wagner, expanding his rent to own stores was a natural transition; business diversification with appliance repair services provide three major advantages. It allows companies to leverage existing overhead; eliminate loaner expenses and wasted time; and ensure quality service for customer satisfaction.
LEVERAGE EXISTING OVERHEAD
By reallocating funds that would, in the long run, be wasted outsourcing appliance repairs, diversifying rent to own services can be a great financial advantage.
According to the previously mentioned APRO report, household appliances represent almost 20% of products within the rent to own industry. However, by combining an appliance repair business with an existing rent to own establishment, business owners can recoup some of their expenses wasted on broken products while simultaneously creating a new stream of revenue.
Adding an appliance repair franchise which provides tested business systems and a ready-made business model is a great alternative for business owners who want to reap the benefits of this service without the typical hassles involved with starting a brand new business.
"It was so easy," said Wagner, "I was already involved with a franchise, and I know the systems and how to apply them. It went really smoothly. I was already spending the time and money having my guys fix broken appliances. Adding Mr. Appliance was a way for me to turn what I was already spending into new income. It just made sense."
Even so, many people assume that providing these services would be a major expense, but in fact, the reality is very different.
"People often overestimate the financial investment associated with a franchise, but it's actually really affordable for the average business owner and even more so for existing rent to own businesses," says Brandon Haire, the team leader for franchise development with Mr. Appliance. "With rented appliances, repairs are just an inevitable expense. When you are constantly pumping money into repairs anyway, adding a franchise is like putting your appliance repair expenses to work for you."
ELIMINATE THE LOANER AND WASTED TIME
Eliminate the middle man. Between labor costs for transportation, labor, standard repair fees and loaner unit expenses, sending broken appliances away for repair is a costly and time consuming process.
"In one of my markets, it could have taken three weeks to get an appliance fixed and in the other it would take up to three months," said Wagner. "With Mr. Appliance we can order parts and get it fixed in about two to three days. The quick turnaround time makes our customer really happy."
By outsourcing repairs to an unaffiliated company, rent to owner centers have extremely limited control over the quality of and time period for repairs. In some instances, outsourcing can even bring the competition into a customer's home. However, companies that provide their own repair services, not only protect their customer base, but can also expand it.
"It's a great way to cross market for both businesses!" said Wagner. "Our repair service gets us into a customer's home and then gets the customer into our store."
ENSURE A QUALITY CUSTOMER SERVICE EXPERIENCE
As studies conducted by Treholm Research, INC have shown, "free repair services" are one of the top five most important factors for customers considering a rent to own services. However, the quality of their experience with these repairs can be equally, if not, more important for retaining a customer's business.
Offering quality repair services provides a number of benefits that support customer satisfaction. For instance, it allows business to have a much higher level of quality control over the services provided. With a stronger understanding of what is occurring in the home, businesses can respond to both customer praise and complaints with greater speed and credibility to enhance the customer's experience.
By expanding the services offered in a rent to own business in this way, rent to own centers can turn wasted revenue into profit, eliminate the most of the waste for loaner appliances, and ensure that client are having an exceptional customer experience. With these and many other advantages, expanding from rent to own to include repair services is a natural way for businesses to expand and grow.