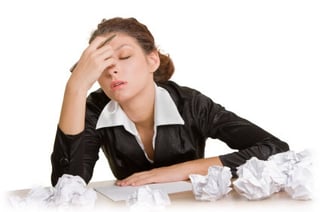 Emotions influence customers' buying decisions.
High-emotion services include ones that relate to major life events, including deaths and births, or even home renovations and car repairs. Equally, home-based services that involve someone entering the home can induce strong emotions in the customer.
Anxious customers can be a huge challenge for companies, but there are a number of ways they can put customers at ease, including:
1. Use Customer Service to Reduce Customer Anxiety
Even though identifying a customer's emotions can be a challenge, it also presents business owners with the opportunity to exceed customers' expectations. Analyzing what touchpoints in their service are most likely to heighten these emotions, such as a representative entering their home for the first time, will enable them to create key strategies that minimize these feelings.
2. Respond to Customers'
Emotions by Being Informed
When a customer is anxious, the service provider has an opportunity to create a long-lasting impression, good or bad. Failure to identify the emotions of the customer and to respond quickly could leave customers feeling ignored, frustrated, and scared.
Businesses need to prepare customers for what's next, telling them what they can expect at each stage of the service.
3. Speak to Customers with Care
Anxious customers can be heavily impacted by the appearance of staff members, their tone of voice, choice of words, and body language. They need reassurance that they have chosen the right company.
To provide this, employers need to train their staff to use calm, reassuring tones that also present a quiet confidence. They should also focus on relaxed body language, the use of positive words, minimal hand gestures, eye contact, and giving customers enough personal space.
4. Give Customers' Control of the Situation
To enhance customer service experiences, business owners might want to look at the ways they give their customers peace of mind and a greater sense of control. They can do this by offering choices from which to choose from, or making sure estimates are easy to understand so the customer can make an informed decision.
5. Hiring the Right People
When dealing with anxious customers, it is crucial business leaders are hiring the right employees. Staff members need to be able to communicate respectfully with customers, be able to build a customer's confidence, and be able to cope with the stress these types of customers may experience.
At the Dwyer Group, we put our customers at ease by offering a professional customer service that makes customers feel safe and confident. To discover more about the opportunities we offer, visit www.dwyergroup.com
Resources:
Fastcompany.com; 2016; Gwen Morgan; https://www.fastcompany.com/3063609/8-ways-to-put-anyone-at-ease
fortune.com; 2016; http://fortune.com/2016/05/07/focus-groups/
www.dwyergroup.com