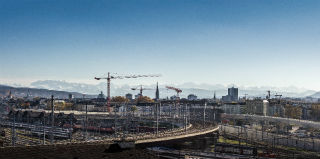 Are you in the construction or commercial services industry? Are you experiencing stagnation? If you answered yes, it's time to add more revenue streams. In many regions, commercial construction growth is slowing, leaving contractors and commercial groups scrambling for new sources of revenue to fill the gap. Choosing to expand and diversify your business is a big decision, but it could also be one of the most profitable moves you make as a business owner. Expanding to the residential sector is a great move in today's construction market, and it's worth taking a look at your business model to see if it's right for you.
Have you Hit a Revenue Plateau?
If you feel like you've hit a revenue wall in your contracting business over the past few years, you're not alone. Booming business growth led to a market flood, and with it, competition skyrocketed. Contractors are now finding themselves bidding against two or even three times the number of competitors for the same jobs as seven years ago, leaving lots of companies and handyman franchises feeling a bit stuck. But it's far from time to throw in your towel and cut your losses – adding revenue streams like the residential market can liberate your company from its sluggish returns once and for all.
Expanding to the Residential Market
Commercial contracts are typically high-cost, high-regulation, and high-profile, which represents a different end of the spectrum than many residential service calls. They're also harder to come by with steep competition amongst contractors. Add that to market stagnation, and you can easily run into problems.
Anyone who's written a business model knows the value of strategic diversification and adding new streams of revenue, and complementing an existing commercial construction company with residential services can be a great way to do just that.
Tap Into the Residential Market with a Mr. Handyman Franchise
It can be tricky to delve into new territory for any business. Fortunately, resources exist to help commercial construction companies enter the residential market. One of those resources is through a Mr. Handyman franchise, which is a great way to delve into residential services with guidance and experience at your disposal, rather than trying to go it alone. A Mr. Handyman franchise offers benefits like:
Existing, nationally recognized and developed residential market
Marketing and promotional resources and assistance
Business systems, model and training
Operations and technical support
Adding a residential market to your construction business is a great way to get out of a revenue slump or stagnated commercial growth. Projections for residential construction in the US look strong for the foreseeable future, meaning adding a residential revenue stream to your construction company might be smart move.